Delatio - De Niro x Rubinstein I x Diplomat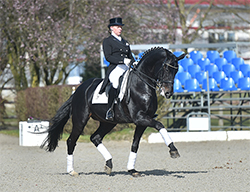 HLP-winner with an an international career

Delatio is sporty and its breeding a highly appreciated. In 2007, after the first notable successes in competitions with Hannes Baumgart, he won the performance test in Adelheidsdorf and is since 2008 in the Netherlands in breeding. The offspring , some with German identity, are successful at advanced level. They brought their father in the top 1% of the FN breeding value (152 points). Delatio himself was under Miranda Rongen (NED) qualified for the championship of the German dressage horse, winner in the Prix St. Georges and Intermediaire I and trained to Grand Prix.
Hotmail van Hof Olympia
Apache x Silvano N. x Calypso III x Latano



For Romance
- Fürst Romancier x Sir Donnerhall 1 x Don Schufro
dk.Braun, *2009, Stm. 172, Oldenburg
Z.: Gestüt Lewitz, Steinfeld
St.: Dressurpferde Leistungszentrum Lodbergen
2011 Körung in Vechta durch Oldbg.: Siegerhengst

Zuglassen für:
Hann., Oldbg., Rhld., Westf., alle Süddt. Verb.

Besamungstaxe:
300 Euro + Trächtigkeitstaxe: 900 Euro


For Romance – ein Beschälermodell, wie es bedeutender kaum sein kann und noch dazu aus der erfolgsverwöhnten Mutterlinie des Voltaire stammend. 2011 setzte er sich bei der Körung des Oldenburger Verbandes in einem überaus starken Jahrgang fulminant an die Spitze, getragen von Standing Ovations des begeisterten Fachpublikums in Vechta. Erwartungsgemäß mit Höchstnoten absolvierte For Romance 2012 seinen 30-Tage-Test in Schlieckau. Er erhielt eine 9,25 für den Trab und die Rittigkeit, eine 9,0 für den Galopp und eine 8,88 für sein Interieur.
Pedigree
Fürst Romancier
Fürst Heinrich
Florestan I
Dawina
Ronja
Romancier
Edwina
Gesina
Sir Donnerhall I
Sandro Hit
St.Pr.St. Contenance D
Gesine
Don Schufro
Gaby
Apache
- UB 40 x Krack C x Inspekteur x El Corona
Reserve Champion KWPN Stallion approval Dressage horses 2008.

Very wel descendant approval 2009

Reserve Champion KWPN Stallion competition level L 2009/2010 under Emmelie Scholtens.

Verslag IDS nr. 2
Under Emmelie Scholten, Apache (UB40 x Olivi) has developed al lot in the past monts. The jury, consisting of Cor Loeffen, Hanneke Gerritsen and Eddy de Wolf van Westenrode was very impressed by the will to work, showed by the KWPN stallion.
Cor Loeffen :
"Apache is a macho kind of horse. Sometimes he was a little bit disturbed. Sometimes he was a little hectic, but in the step, he had a very well leg technique. In the trot he showed a lot of flexibility, a lot of bending in the joints and is his very well rear leg usage well noticable. Galloping does he with a good leg technque and a lot of push off. The bearing is in general good. Apache received 85 points in Deurne and was the winner."

JAZ PREF
OLIVI
HALLA UTOPIA ELITE PREF SPORT(DR)
UB 40
MICHELANGELO
KILUCIENNE KEUR SPORT(DR)
TILUCIENE KEUR PREF PREST

FLEMMINGH PREF
KRACK C
GICARA II KEUR PREF PREST
TOLANDA ELITE STB
INSPEKTEUR
OLANDA STER PREF
KOLDA STER
Don Frederic
- Don Frederico x Wolkentanz 1 x Liberty x Wenzel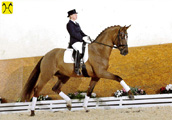 Mecklenburger Siegerhengst out of a top foundation from the Olympic Lancet.
Father Don Frederico won the Hengstenleistungsprüfung and acted tuntil Prix St.Georg. Don Frederico was crowned best stallion from Hannover in 2002. One of the most famous children of Don Frederico is the super mover Don Johnson, from Isabell Werth, who runs Grand Prix.
The father from mothers site Wolkentanz has the required approved stallions and Staatsprämienstuten and was a Bundeschampion in his days. Out of the Hanoveraanse mothers foundation also comes the Olympic and World Champion stallion Lancet from Emma Hindles.
Fürst Romancier
- Fürst Heinrich x Romancier x Winston :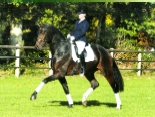 Fürst Romancier, dark brown, born 2004, 1.74m height at withers, Oldenburger. For the 70-day test, the stallion got a top score of 9.0 for walk, trot, and canter. For the "Rittigkeit" he got 9.0 and 9.5. The stallion has a total mega dressage index of 148 points.
The stallion persuits, through the elastic moves in his whole body. Fürst Heinrich was in 2003 world champion by the 5 year old dressage horses. As breeding stallion, he has a very high ranking with 160 points in the FN breeding counting. From Romancier his succesful mothers side, came a lot of approved stallions and many Grand Prix dressage horses. For example Avignon and the olympic dressage horse Petit Prince and many others.
Foundation
- Fidertanz x de Vitto (de Niro) x Andiamo ( Absatz ) x Furioso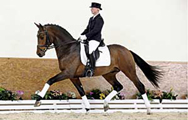 The stallion Foundation has dynamic movement, excellent hind leg action, and exceptional presence. His sire Fidertanz won North Rhine-Westfalian Champion Stallion and now competes successfully at Prix St. Georg level. Need we say more?
Foundation's dam, Donna Doria, is by De Vitto (De Niro). She boasts an outstanding dam-line, which has produced several Prix St. Georg and Intermediaire I horses.
Hotline
- De Niro x Wendepunkt x Busoni XX
Hotline was the champion (ster) of the 2005 Hannover Stallion Selection! Born in 2003, Hotline is a 16.3-hand, dark bay stallion. This dressage champion of the Stallion Selection in Verden performed brilliantly, leaving no wish unfulfilled. He is very beautiful and has functional conformation with his long lines, correct legs, and distinct appeal. He demonstrates the desired suspension and forehand elevation in his gaits and maintains a consistent rhythm. Source: In de Strengen, November 2005
Rubin Royal
- Rohdiamant x Grundstein II x Akzent II

Rubin Royal - Sire Rohdiamant, bred from mother side out of a pedigree jumper bloodline. The stallion Grundstein II has jumped Grand Prix at Paul Schockemöhle. Afterwards, he was sold to Italy, where he won the National Championships. Akzent II is to be find in many jumper strains. Rubin Royal is a very beautiful stallion, dark brown, 1.70m height at withers. He has has great and clearly marked movements in both fore-legs an hind-legs. For offspring pictures, see the menu "Offsprings".
nr61_Quaterback_Furst_Piccolo_x_Sandro_Hit
Apache
- UB 40 x Krack C x Inspekteur x El Corona
Reserve Champion KWPN Stallion approval Dressage horses 2008.

Very wel descendant approval 2009

Reserve Champion KWPN Stallion competition level L 2009/2010 under Emmelie Scholtens.

Dutch Chamion Prix St. George 2012

Verslag IDS nr. 2
Under Emmelie Scholten, Apache (UB40 x Olivi) has developed al lot in the past monts. The jury, consisting of Cor Loeffen, Hanneke Gerritsen and Eddy de Wolf van Westenrode was very impressed by the will to work, showed by the KWPN stallion.
Cor Loeffen :
"Apache is a macho kind of horse. Sometimes he was a little bit disturbed. Sometimes he was a little hectic, but in the step, he had a very well leg technique. In the trot he showed a lot of flexibility, a lot of bending in the joints and is his very well rear leg usage well noticable. Galloping does he with a good leg technque and a lot of push off. The bearing is in general good. Apache received 85 points in Deurne and was the winner."

JAZ PREF
OLIVI
HALLA UTOPIA ELITE PREF SPORT(DR)
UB 40
MICHELANGELO
KILUCIENNE KEUR SPORT(DR)
TILUCIENE KEUR PREF PREST

FLEMMINGH PREF
KRACK C
GICARA II KEUR PREF PREST
TOLANDA ELITE STB
INSPEKTEUR
OLANDA STER PREF
KOLDA STER